Artist in Residence
Pacific Bridge Contemporary Southeast Asian Art
---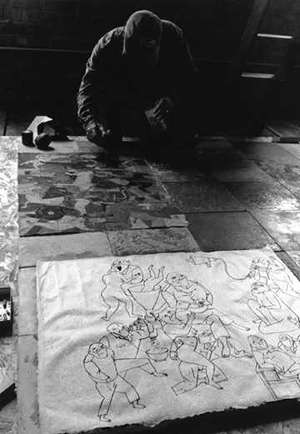 The "Artist in Residence Program" at Pacific Bridge is based on the belief that cross-cultural exchange is the best way to promote a more personal and insightful understanding between peoples of the world. For artists from Southeast Asia the barriers to travel, be they financial or political make firsthand experience of the United States difficult if not impossible. The "Artist in Residence Program" creates the opportunity for artists to join Pacific Bridge for a four to six week residency. During this time the artists stay at Pacific Bridge and have full access to our studios. During their stay the artists have the opportunity to meet their contemporaries, visit local museums and galleries, speak publicly about their art and have an exhibition in the Pacific Bridge gallery.
During 1998 Pacific Bridge hosted six artist's in residence; Do Hoang Tuong, Nguyen Thanh Binh, Nguyen Tan Cuong, Nguyen Van Cuong, Tran Van Thao and Nguyen Trung.
1999 features artists in residence Entang Wiharso, Isa Perkasa, Bramantyo, Noel Soler Cuizon, Nguyen Cam, Eric Le Roux, Maritta Nurmi, Vu Dan Tan and Le Hong Thai.