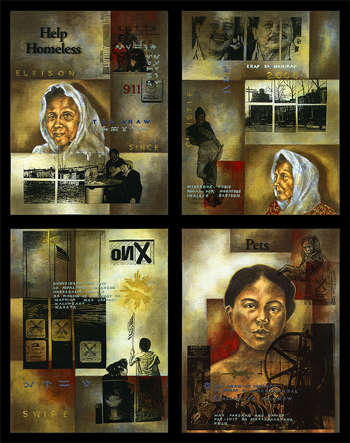 Tag-Araw: Recyclables 23.5" X 18.5" acrylic on canvas, photocopy on transparency
NOEL SOLER CUIZON (born 1962, Manila) graduated with a Bachelor of Fine Arts degree, major in painting, from the Philippine Women's University in Manila in 1987. After winning third prize in The Titanium Group and Hiraya Gallery National Art Competition in 1989, he won an honorable mention at the 2nd Biennial Arts Exhibition in Makurazai City, Kagoshima, Japan in 1991.
Cuizon rose to prominence and secured an enviable position as a young artist to reckon with after his first solo exhibition in 1992. He represented the Philippines in the Quinta Biennial de la Havana in Cuba in 1994 and was one of three Philippine representatives to the Fourth Asian Art Show, held in Fukuoka, Japan the same year. He won the Mention du Jury in the 26th Festival de la Peinture in Cagnes-sur-mer, France in 1994. Also in 1994, he was granted the Thirteen Artists Award by the Cultural Center of the Philippines, a biannual tribute given by the institution to outstanding young artists.
He is a recipient of several travel grants related to his art. He has been to Kuala Lumpur, Malaysia, and most recently, he received a fellowship from the Asian Cultural Council to be an artist in residence at the Marin Headlands Center for the Arts.
Personal struggle and alienation are frequent subjects that appear in most of Cuizon's works. These themes relate to the colonization of the Philippines by two major world powers with two divergent cultures and intentions. This search for identity, a recurring theme, is necessary and important in his works and, as Cuizon puts it, "to have an objective viewpoint about my country and my people."