Studio @ Pacific Bridge Contemporary Southeast Asian Art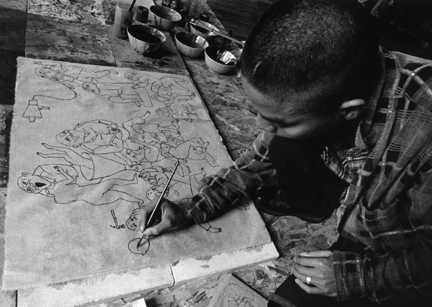 The studio at Pacific Bridge gives visiting artists a place to make new work. This allows the artists to bring the influence of their new surroundings into their work while their ideas are still in process.
Pictured here Nguyen Van Cuong demonstrates his traditionally inspired technique of painting with ink and watercolor on hand made rice paper. Cuong preferred to place the paper on unsealed concrete tiles because the tiles soak up the liquid from the color wash he paints over the ink line work. It took a couple of tries to find tiles which were as porous as those in his studio in Vietnam, and thus prevented the ink line work from bleeding. The rice paper he uses is made in a paper making village not far from Hanoi. Cuong has painted oil on canvas but prefers rice paper because he can not paint over or change any mark or line once it is committed to the paper.