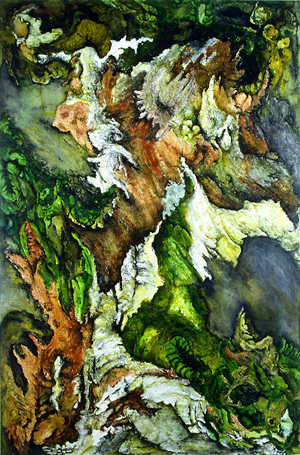 Vi Ly is currently the Academic Director at the Art Institute of Los Angeles in Santa Monica, California. She has taught at local colleges in the Bay Are, including San Francisco City College, San Jose City College, Monterey Peninsula College and the San Francisco Art Institute.
She has exhibited widely in the U.S. Her works are in private and public collections including the Permanent Collection of the San Jose Museum of Art.
Vi Ly received her MFA from the San Francisco Art Institute and received her BFA from the School of Arts and Design at the University of Cincinnati.
Vi Ly's immense canvases provoke thoughts of magical forests from another time and place, inviting the viewer to walk right in. These large canvases billow like cloud formations creating endless new forms to discover. The rich brush work of strong earthy colors and transparent glazes are applied over areas of texture made from sawdust, soil and human hair.
Terrain # 17, 90" x 60" oil on canvas