SANTIAGO BOSE (born 1949, Baguio City) graduated from the University of the Philippines College of Fine Arts in 1972. Since his first solo exhibition in 1975, Bose has earned an indisputable reputation as one of the most prolific, ingenious and innovative artists the Philippine art scene has ever produced.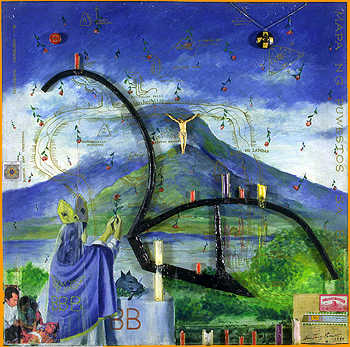 The Holy Mountain 48" X 48" mixed media (part 2 of "The Middle Kingdom" triptych)
Bose was granted the prestigious Thirteen Artists Award by the Cultural Center of the Philippines in 1976. He has exhibited in major international events such as the Third Asian Art Show in Fukuoka, Japan and the Havana Biennial held in Cuba, both in 1989. In 1993, he was invited to the First Asia-Pacific Triennial of Contemporary Art held at the Queensland Art Gallery in Brisbane, Australia. Last summer Bose's work was included in the Asian Art Museum of San Francisco's exhibition "At Home & Abroad, 20 Contemporary Filipino Artists."
As a recipient of several major grants and fellowships, Bose has traveled extensively around the world. Bose's work is marked by a conscious avoidance of a single recognizable style, by varied foreign and local influences, and by an experimental bent. While his works reflect a deep social, political and cultural sensitivity, they are often interspersed with his special brand of wit and humor. As a multi-media artist, he promotes the use of inexpensive, found, and reusable objects in art making. He is also a pioneer in the use of indigenous materials and was instrumental in popularizing them in the local art practice.