ELMER BERLONGAN (born 1967, Manila) studied painting at the University in Diliman, Quezon City in 1987. Even as a student, he joined a number of important group exhibitions. He had his first solo exhibition in 1993.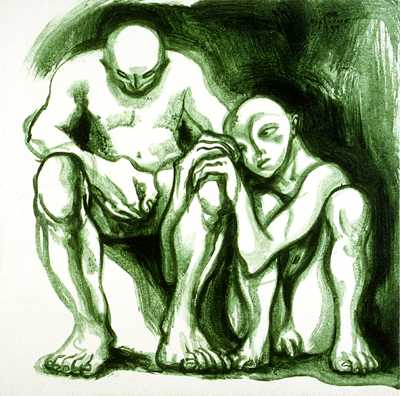 Pedo 24" X 24" acrylic on canvas
He has won numerous awards in prestigious national art competitions. In 1994, Borlongan was granted the prestigious Thirteen Artists Awards by the Cultural Center of the Philippines. He has represented the Philippines in various international exhibitions and workshops. He was artist-in-residence at ARCUS Interactive Intercultural Residence in the Arts, Ibaraki Prefec-ture, Japan in 1996. In 1997, his work was in the exhibit Glimpses Into the Future, Art in Southeast Asia shown at the Tokyo Museum of Contemporary Art and the Hiroshima Museum of Contemporary Art in Japan. Last summer he was one of the twenty Filipino Artists represented in the exhibit titled "At Home & Abroad" held at the Asian Art Museum of San Francisco. Borlongan's art deals with the harsh realities of the Filipino peoples' day-to-day existence, their conflicts and the overall bitter drama of human experience. His subjects are awesome commentaries of how society deals with the urban poor and other marginalized people of Metro Manila. His work is characterized by a consistent painterly approach marked by intentional distortions of human figures and their environment.