HO CHI MINH C. David Thomas
---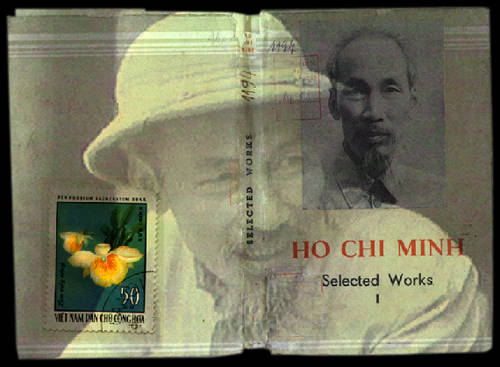 In spite of the fact that Ho Chi Minh is on nearly everyone's short list of the most important leaders of the twentieth century, the last book published in the United States on Ho was Charles Fenn's 1973 biography titled "Ho Chi Minh". Before that the only other biography written on Ho Chi Minh by an American author was David Halberstam's 1971 book titled "HO".
After more than twenty-five years this book by biographer Charles Fenn and artist David Thomas is a result of the collaboration of these two men uniquely qualified to undertake this important project.
This book includes passages from a fictional "diary". As far as we know, Ho never kept a prose diary. The purpose intended in this work of imaginative reconstruction is intended to evoke a sense of his personal engagement with the events of his time. The "diary" is based on historical documents but should not be taken literally. Although fictional, the "diaryÓ is based on factual information found at the bottom of each page. Also included are passages from Prison Diary, a collection of poems written by Ho Chi Minh while he was in prison in China in 1942-43, as well as two stories told by Mr. Vu Ky and Mr. Dinh Duong Dinh, two of Ho's closest friends, and poems by several of Vietnam's leading poets.
by C. David Thomas and Charles Fenn

---