Art without borders
Bay Area exhibits lean to multicultural artists

| | |
| --- | --- |
| CONTRA COSTA NEWSPAPERS | JULY 30, 1999 |
BY Anita Amirrezvani

---
Geoff Dorn and Beth Gates, both 30, believe strongly in cultural exchange. The couple spent two years teaching English in Indonesia and bicycling through Southeast Asia, a leisurely form of travel that allowed them to meet contemporary artists from all over the region.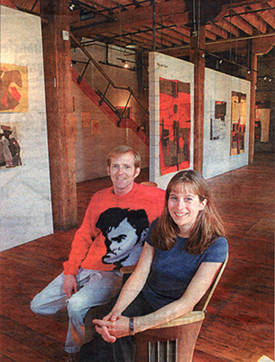 When they returned to the United States, they searched for venues showing Southeast Asian art, but to no avail. That's why they decided to open Pacific Bridge, an Oakland gallery which focuses on contemporary artists from countries such as Vietnam, the Philippines, Indonesia, Malaysia and Thailand.
"In most of the arts there's a wide range of world exposure, certainly more than in visual art," says Dorn. "We wanted to open Americans up to the fact that there's a whole sea of art all around us."
They're not alone. In recent years, more contemporary art galleries with a specific ethnic or regional focus have opened their doors in the Bay Area. The reason, according to most of the proprietors, is that major museums and mainstream galleries just don't present the work very often, if at all.
"The art world is already so saturated with artists, it's very difficult for an artist to get in," says Maryam Ovissi, co-owner of Gallery Ovissi in Emeryville, which focuses on Middle Eastern artists. "That inspired me to open up a space."
Major museum exhibits of contemporary world art have been slow in coming. Earlier this year, however, the "Inside Out" show at both the San Francisco Museum of Modern Art and the Asian Art Museum showcased contemporary Chinese artists, and the Asian's "At Home and Abroad" exhibit showed the current work of Filipino artists.
Local galleries have been somewhat more flexible: In Contra Costa alone, the Hearst Art Gallery at St. Mary's College in Moraga recently showed contemporary Vietnamese art, and the Bedford Gallery in Walnut Creek hosted a show in 1995 of Arab women artists.
The artwork on display at the new galleries runs a gamut of styles ranging from abstract to representational. But according to gallery owners, visitors often walk through their doors with stereotyped expectations.
"People come in expecting 'Asian-ness,' but that's not necessarily the case," says Gates. "It's not a given that you'd know where the work is from."
Gallery owners find that a big part of their job is educating the public about the type of work they present. Arvind Iyer, who runs the Kalart Gallery in San Francisco, recently put together a panel on collecting Indian art to introduce people to the topic. "The more people find out, the more interested they get because it's a fascinating field," he says.
Most of these new galleries are a labor of love: They are either privately funded by their founders or are nonprofit. Fortunately, the Bay Area seems to be sufficiently cosmopolitan to appreciate such diverse work.
"The Bay Area is one of the more open-minded regions of the country, and a lot of people realize what's being exhibited in museums is not representative of the Bay Area or the world at large," says Gates.
Despite their tight focus, gallery owners say that art sales don't have all that much to do with the origin of the artist. "When a client buys work," says Ovissi, "the bottom line is not because it's a certain type of artist -- it's because they like the art."
Pacific Bridge Contemporary Southeast Asian Art, Oakland
11 a.m. to 6 p.m. Tuesday through Saturday
95 Linden St., Suite 6
510-451-8840; www.asianartnow.com
Beth Gates and Geoff Dorn have carved out a small oasis near the railroad tracks in Oakland. Pacific Bridge is located in a light-filled 100-year-old brick warehouse with high ceilings, shiny plank floors and rough-hewn wooden beams.
The bottom floor houses a 1,500 square foot gallery, while the couple's living space on the second floor has a contiguous kitchen, dining and work area, a loft for artists-in-residence, a private bedroom, and a talkative red and green parrot called Laura.
Pacific Bridge mounts an exhibit about every two months. Most of the shows so far have featured Vietnamese artists, but upcoming shows will focus on work from Indonesia and Thailand.
The current exhibit, "Cries, Whispers and Remembrances," which runs through Aug. 15, includes both abstract and figurative paintings by two Vietnamese artists, Nguyen Cam and Phan Cam Thuong, and work by Maritta Nurmi, a Finnish artist who lives in Hanoi.
"So many people will say, 'Are you showing textiles and baskets?'" says Gates. "There's a misconception that Third World countries don't have a modern side to them. That makes a lot of the work very interesting, because artists are grappling with the huge contradictions between rich urban conditions and poor rural conditions."
Even though the gallery has only been open since March 1998, Dorn and Gates have already sponsored nine artists-in-residence, paying for their airfare and expenses. The two support the gallery's activities with the help of a private loan. They hope to incorporate as a nonprofit by the end of the year, which will allow them to apply for grants and other sources of funding.
---
Anita Amirrezvani is a CONTRA COSTA TIMES NEWSPAPERS Staff Writer
---
Pacific Bridge Contemporary Southeast Asian Art, 95 Linden Street #6, Oakland CA 94607
Tel. (510) 45I - 8840 Fax. (510) 45I - 8806 email. pacificbridge@asianartnow.com
Gallery hours: Tuesday through Saturday 11 am - 6 pm.