CASTOFFS TAKE WING
| | |
| --- | --- |
| SAN JOSE MERCURY NEWS | DECEMBER 5, 1999 |
| ARTS & CULTURE | |
BY T.T. NHU
PHOTOS GARY REYES
---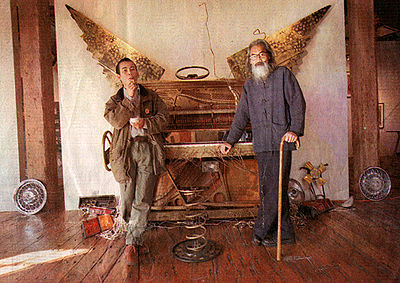 At 1P.M. on a recent afternoon, the skies opened and it began to pour as Vu Dan Tan arrived at the di Rosa Art Preserve in the rolling hills of Napa. "Ah, rain!" said the artist from Hanoi, lifting his face toward the heavens. "So beautiful!"
The rain didn't dampen Tan's spirits as he, his Russian wife, Natasha Kraevskaia, and Le Hong Thai, another Vietnamese artist, admired a faraway great white heron and quacking ducks in the middle of a nearby lake. Tan squinted at a flock of steel sheep on the side of a hill. "What are they, wood or tin?" asked the artist, peering through thick glasses. They are metal sheep created by Veronica di Rosa, the late wife of the art preserve's founder, Rene di Rosa.
Tan, 45, and Thai, 33, were artists in residence for November at the Pacific Bridge Gallery in Oakland, which specializes in contemporary Southeast Asian art. Since 1998, the gallery, with the help of Malaysia Airlines, has brought 15 artists from the region to Northern California for monthlong stays.
Going to the di Rosa art preserve is a day's diversion for the artists, who have been living and working at the gallery. As artists-in-residence, Tan and Thai have been enjoying the freedom to create works they have neither the material nor space for in crowded Hanoi.
Tan, previously forced to create small objects, was unleashed to work on a giant installation piece. His first choice was a plane or helicopter, but he settled on a car. Tan neither owns nor drives a car, but he is fascinated by this American symbol of prowess and, sometimes, excesses. He named the project Rien Car Nation, a pun in English, his fourth language. He also speaks Russian and French and has lived in Europe, Russia and Cuba.
For most of November, Tan worked on a 1961 Cadillac he found at an auto dismantler in Oakland. With the help of two local welders, he eviscerated the car, painted it gold and festooned the chariot with wings. Tan reshaped the car into Icarus, a character from Greek mythology who escaped from a labyrinth on a pair of waxwings but flew too near the sun and fell into the sea.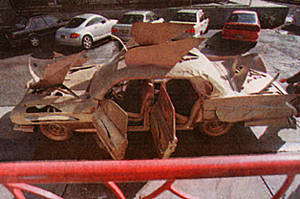 "I like putting wings on my vehicles to give them the possibility of flying and escaping." Tan says.
Tan has also reconfigured a piano, painting it gold and adorning it with wings and a collection of lights wired to the keys. At the opening of his exhibit on Nov 13 (it closes Jan. 29), he played the piano, sang wildly and somehow ended up underneath the piano.
At the di Rosa ranch, Tan circled around two intricately decorated long-finned cars, examining the buttons, beads, claws, marble, fake fur and cheap plastic trinkets covering every inch of the cars.
Di Rosa is the self-professed "artaholic" who financed the multimedia art preserve by selling part of his vineyards to Sterling Vineyards for close to $10 million in 1987. A former newspaper reporter, di Rosa began collecting art from Northern California 40 years ago, buying works by now-famous artists at the beginning of their careers.
Tan marveled at the three-dimensional collages made of improbable materials, such as machetes, foam and sand. "Nothing here is predictable," he says.
In Hanoi, Tan creates fanciful creatures. He recycles cigarette cartons, biscuit tins, Coca-Cola cans, old newspaper and 78-rpm records into what his wife calls "funny monsters." He works in front of a window that looks onto a busy Hanoi street, and rarely leaves the couple's home.
Using discarded materials used to be a necessity because until recently, Tan didn't qualify for scarce fine art materials reserved for approved artists in Vietnam. So he turned cigarette cartons into Cadillacs. I made architectural monuments out of everyday objects," he says.
Until 1996, Tan was a pariah in the Hanoi art world. He has no formal art training because his father, Vu Xuan Long, a playwright and publisher, was out of favor with the government. His work was dismissed as amateurish, trashy and even sick by other Vietnamese artists.
In a rigidly conformist society, Tan was deemed deranged because of his flowing hair, unkempt demeanor and unorthodox lifestyle.
Then, foreign art collectors discovered the artist who, by necessity, was churning out folk art. His painted masks on woven baskets are now widely imitated and sold in tourist shops.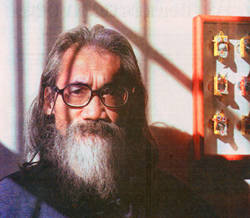 That relieved the pressure to conform. But he still refers to himself as FOU (French for crazy) Tan or Amadeus Fou Jean Tan in honor of his favorite musician, Mozart.
"Vu Dan Tan identifies with optimistic heroes, Charlie Chaplin and Don Quixote," says Kraevskaia, who always refers to her husband by his entire name. He is hap-piest when he is working and is con-stantly inventing and creating. Tan's marriage to Kraevskaia, a Russian expatriate, overcame formi-dable obstacles at a time when it was forbidden to even socialize with foreigners. They turned their small two-room house into an open forum for the arts. All day, visitors traipse in and out of Gallery Natasha to view the art that cov-ers every inch of their crowded house and sip tea and chat with Kraevskaia while Tan works away in his window atelier.
"My work has several lives," he says. "The cigarette box as a container has one life. When, it becomes my work, it has a second life, and, the third life is when someone buys it and brings it back to their own environment"
Before leaving di Rosa's home, Tan looked around the soaring living room filled with huge mobiles and other art that reflects the humor. And artistry of Robert Arneson, Wayne Thiebaud and other Northern California artists.
"I like it here," he says. It reminds him, on a grander scale, of his tiny gallery-home, where every inch is covered with his own work and that of other avant-garde Vietnamese artists. 'This place is my unconscious - my dreams and visions come to life," he says, "and this is how art should be shared."
---
T.T. Ngu is a Mercury News staff writer.
---
CLICK HERE FOR "RIEN CAR NATION"
---
Pacific Bridge Contemporary Southeast Asian Art, 95 Linden Street #6, Oakland CA 94607

Tel. (510) 45I - 8840 Fax. (510) 45I - 8806 email. pacificbridge@asianartnow.com

Gallery hours: Tuesday through Saturday 11 am - 6 pm.