New Stories from an Old Chapter at Pacific Bridge

| | |
| --- | --- |
| ASIAN ART NEWS | MAY / JUNE 1999 |
BY REENA JANA
---
Eclectic and energetic, the work included in New Stories from an Old Chapter (Mga Bagong Kwento mula sa Isang Lumang Yugto) reflected the complexity of the contemporary Filipino identity. This show included works by six of the most dynamic Filipino artists working today: Elmer Borlongan, Santiago Bose, Noel Soler Cuizon, Brenda V. Fajardo, Karen Flores, and Marc Justiniani. All figurative, the pieces conveyed the push-pull felt between past and present, East and West that, perhaps ironically, helps to define what it means to be "Pinoy," [Filipino].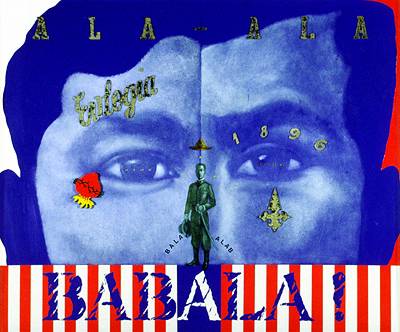 Justiniani's mixed-media work incorporates the flashy colors and slick graphics most often identified with the deco rations that adorn jeepneys jeeps customized into flamboyant public transport. Followers of Justiniani's work will see that his adaptation of the jeepney-style has evolved into a more subtle manifestation. The standout work, Eulogy, for example, is a collage of Tagalog wordplays and references to the Filipino struggle for independence from Spanish rule that uses a jeepney's streetwise visual vernacular to deliver its subtle punch.
Santiago Bose, who is perhaps best characterized by his deliberate non-allegiance to a particular style, is represented by some strong and wonderfully textured mixed-media works, including The Hunter, complete not only with heavy impasto, but also what appears to be authentic boar's hair. In his other works, from The Holy Mountain to Returning Luck, he wittily refers to the powerfully superstitious mysticism that the Filipino brand of Catholicism can suggest.
Both Noel Soler Cuizon's and Elmer Borlongan's works document contemporary urban life. Borlongan's brightly hued, nearly monochromatic compositions feature slightly distorted everyday scenes, such as a boy creating a shanty house in Habitat. Cuizon's collage-like works simultaneously reflect the concepts of political, social, and economic alienation all at once. Campbell's Soup, Che Guevara, the recent headline "Serbs Capture 3 GIs," and a shirtless, indigenous Filipino, all serve as elements in Cuizon's compositions.
Pieces from Brenda Fajardo's signature Tarot Card series help the viewer to understand the impact of colonialism on the Filipino people in an engaging and powerful narrative style: 1st Fold in the History of Philippine Life.. Selfhood depicts the pre-colonial Philippines; 300 Years of the Cross and Sword is the 2nd Fold illustrates what life was like when missionaries settled on the islands.
Karen Flores's colorful, magical-realist style rounds out the show with its feminine brand of socio-political commentary, best exemplified in Magnificence, a painting that features a naked, pregnant woman. Flores presents a cross-section of the woman so we can see her soon-to-be-born baby; the figure lies on a red sheet against a rich, blue sky in which the points of stars stab through the torsos of several bystanders. The red, blue, and gold stars of the piece, one quickly realizes, represent an abstracted Filipino flag, moving as if flapping in a storm.
---
Reena Jana is the San Francisco-basedcontributing editor for Asian Art News and World Sculpture News.
---
CLICK HERE FOR
"New Stories from an Old Chapter"
---
Pacific Bridge Contemporary Southeast Asian Art, 95 Linden Street #6, Oakland CA 94607
Tel. (510) 45I - 8840 Fax. (510) 45I - 8806 email. pacificbridge@asianartnow.com
Gallery hours: Tuesday through Saturday 11 am - 6 pm.