Naked Truth
| | |
| --- | --- |
| SAN FRANCISCO BAY GUARDIAN | APRIL 28, 1999 |
BY SARAH COLEMAN
Though we live on the Pacific Rim, opportunities to see contemporary Asian art in the Bay Area come less frequently than they should.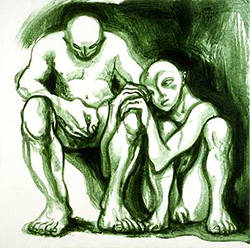 To this end Oakland's innovative Pacific Bridge gallery opened a year ago with the specific mission of bringing cutting-edge Asian art to the Bay Area. Cofounders Geoff Dorn and Beth Gates are artists who lived and Worked in Southeast Asia for a number of years, and their knowledge of the terrain is impressive. Previously they've brought exhibits of Vietnamese art to the gallery; the current exhibit showcases six artists from tile Philippines, some of whom were featured in last year's show of Filipino art at the Asian Art Museum. In tune With their country's history of being colonized, man), of the artists here create layered or collaged works. In Mark JustinianiÕs colorful plastic-based panels and Noel Cuizon's delicate paintings overlaid with image-strewn acetate transparencies, American symbols mingle with Filipino folk heroes and religious icons. In contrast, Elmer Borlongan's monochrome life studies of the urban poor capture their subjects' dignity without setting one's teeth on edge, while in Karen Flores's quasi-surreal works, figures dressed gorgeously in Philippine colonial costumes dream, dance, and give birth in an imaginary, symbol-laden space. Cultural references might at times evade a Westerner, but the work is intriguing nonetheless; in all, this well curated show offers considerable insight into a vibrant island nation.
---
CLICK HERE FOR
"New Stories from an Old Chapter"
---
Pacific Bridge Contemporary Southeast Asian Art, 95 Linden Street #6, Oakland CA 94607
Tel. (510) 45I - 8840 Fax. (510) 45I - 8806 email. pacificbridge@asianartnow.com
Gallery hours: Tuesday through Saturday 11 am - 6 pm.