The Intuitive Eye
| | |
| --- | --- |
| ASIAN ART NEWS | JULY / AUGUST 1999 |
BY REENA JANA
---
It is only in be past five years or so that the Vietnamese-American experience has come to the fore in the visual arts. The work of three Vietnamese-American artists - Kai Hoang, Thai Bui, and Vi Ly - seem at first glance to express very different world experiences, but beneath the surface they grapple to make statements that touch on humankind's universal condition.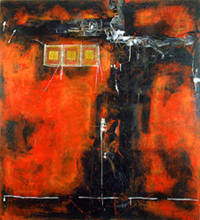 Instinctive and intuitive artmaking, resulting in viscerally compelling works-these were the common threads in a recent show of new works by three Vietnamese-Californian artists on view at Pacific Bridge Gallery, Oakland, California. While the artists Kai Hoang, Thai Bui, and Vi Ly share the same history as boat people who emigrated to the United States, none hails from the same region in Vietnam. Hoang is from Lao Kai; Ly is from Saigon (Ho Chi Minh City), and Bui is from Hanoi. And all three, who represent different generations, have distinct styles, ranging from emotional expressionist paintings (Hoang) and abstract landscapes (Ly), to organic sculpture (Bui). Yet, in juxtaposition, these artists' works complement each other forcefully.
Hoang's paintings evoke intense emotion. Utilizing a strong, somber palette for his abstract compositions, Hoang's broad brushstrokes and use of paint drips lend both sweeping sorrow and a dark beauty to his work. He often incorporates clues through his simple titles-such as Passage #5, The Gate, Shrine #2, and Shrine # 3 - to indicate that his work deals with the passage from life to death and the spiritual. He often includes, too, scraps of Vietnamese funeral paper as collage elements in his paintings. A piece such as Shrine #2 possesses a physical and spiritual power.
Here, Hoang bathes his canvas in blood red paint, offset with black and white accents and scraps of funeral paper. The impact recalls that of work by American Abstract Expressionists.
"My work is the connection between this life and beyond," says Hoang, who was born in Lao Kai in 1948, but who now lives in San Jose. "The funeral paper stands opt as that connection, physically and spiritually. My influences include Mark Rothko and Richard Diebenkorn."
Such influences are clear in Hoang's Passage #4, for example. Here a canvas awash with dark green and black suggests the color intensity typical of Rothko's colorfield work. Like Rothko Hoang does away with the tension of forms, and by doing so he makes re strained but deeply mysterious and evocative paintings.
In works like Blue Night and Midnight #2 Hoang nods more toward Diebenkorn's heavily stylized representational works of specific locations. Blue Night, for example, appears to be an abstracted cityscape rendered grid-like, accented with vibrant blue. Here, he captures the evening energy of an urban area accurately. Midnight #2, incorporating a violent shade of red, has the slightest suggestion of city streets, an evocation of a city after dark.
Although the influence of American art is clear in Hoang's work, European artists such as Paul Klee and Antoni Tapies are also inspirations, as is traditional Vietnamese art. "The native Nung art that is found on costumes and shrines has influenced me," says Hoang, who began his art studies at a private school in Saigon in 1962, but graduated from Saigon University in 1970.
In the 1960s and 1970s, Hoang's work was shown in numerous exhibitions in Saigon, including the 1966 Invitational Exhibition sponsored by UNESCO, the 1968 Biennale Exhibition of the Young Artists Association Center, and at Saigon's Communication Center in 1972.
In 1984, Hoang left Vietnam for the United States. But it was not until the 1990s that he again began to receive recognition for his art. In 1992, his paintings were included in the 20th Annual Juried Exhibition of the San Jose Art League. In 1993, he had a solo exhibition at the Arts Council of Santa Clara County, California. His work was also included in a group show entitled The Transition at San Jose City College. The Smithsonian Institution included his work in An Ocean Apart.. Contemporary Vietnamese Art from the United States and Vietnam (1996), an exhibition organized by the Smithsonian Institution and shown at the San Jose Museum of Art.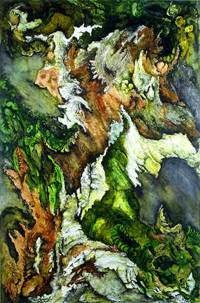 Vi Ly's work was also shown in An Ocean Apart. Like Hoang, Ly uses an abstract style. But while Hoang's work might be considered to be predominantly spiritual in focus, Ly's art concentrates on the physical. Using a lush, tropical palette of deep forest green and dark pinks, Ly makes dense compositions that exude a strong feminine quality.
A work such as Terrain #14, for example, includes shapes that could be either floral or genital, plant, or human organs. Ly seems to map out a jungle terrain that could either be ecological or biological territory. Ly says that she wants the viewer to see both.
"Yes, my paintings look like landscapes, and this is a simpler frame for exhibiting the work. They are internal landscapes," says Ly, who was born in Saigon in 1968. "The shapes started out as internal body shapes: intestines, kidneys, genitalia. Then, I didn't want to be blatant. We live in a conventional world. If I could turn these things into landscapes, I knew I could distort the biological. This is how the series evolved."
Her large work, Terrain #17, clearly illustrates her vision. While largely abstract, the shapes also display a remarkable clarity of form. Her use of impasto and textures achieved by incorporating sawdust, soil, and human hair, as well as a shiny glaze that coats the entire painting, add a sensuality. Looking at Terrain #17, the viewer feels as if their eyes are playing tricks: what would appear to be trees or flowers seem to metamorphize into anatomy.
"When I started this series, I asked myself how I could literally spill my guts," says Ly. "All of my feelings and emotions and angst, everything came tumbling out. I started thinking of all these things inside me, my feelings and my organs."
Her palette recalls the foliage colors of Southeast Asia, yet she claims that she did not intentionally try to use a Southeast Asian palette. Still, she admits, "we all grow up seeing colors and shapes, so, subconsciously, maybe I did use colors from the Vietnamese landscape."
Ly came to the United States in 1980. She studied drawing and painting at the University of Cincinnati, Ohio, then moved to California to pursue a Master of Fine Arts degree in drawing and painting at the San Francisco Art Institute. As she was educated in the United States, she refers to European painters as her main influence, although she says that growing up as an Asian immigrant definitely affected her thinking.
"I don't know many Asian artists; however, my philosophy is affected by Eastern thought. My social influences are Eastern," says Ly. "But artistically, I was influenced by the flow of Bacon and the darkness of Goya, even though my work isn't literally like theirs. But I believe that has to do with the time that I'm working in. I might have painted about the same subject had I lived during their time. But I think my paintings reflect the intensity of their work."
Like Hoang and Ly, Thai Bui was also featured in An Ocean Apart, refers to an international List of influences that have helped shape his vision. "My interest has always been in nature. My work reflects both my Vietnamese and my American sides," says Bui, who was born in Hanoi in 1960. "My art is very intuitive, but it doesn't necessarily have any connection with Vietnamese culture."
Bui's influences span Japanese modern sculpture, African folk art, and Chinese Confucianism. In fact, Bui refers to the work of Japanese-American sculptor Isamu Noguchi as a direct influence. "I like Noguchi's approach. I've read many reviews of his sculpture shows and I see his work in galleries. His technique and Asian influences and his philosophy are similar to my situation. But, like I said, my work is very much intuitive."
Just as in Noguchi's signature works, Bui tends to present sculptures that are simultaneously raw and polished. His sculptures are raw in that the natural materials are highlighted, as if to say that a natural object's pure qualities must be regarded with the utmost respect. At the same time, his sculptures reflect a Noguchiesque understanding of the meticulously arranged forms to convey a dynamic sense of primordial energy.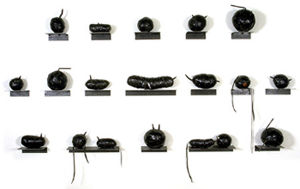 In the diptych Twins, for example, Bui presents two segments of the same tree branch, arranged on two panels. The viewer marvels at the beauty of the branch's natural curves and angles, while at the same time cannot help but notice the visual suggestion of two matching vertebrae.
Meditation also uses natural materials: carved wooden logs in whose grooves stones are attached, with each log placed on a bed of stones. This work has a strong sense of movement, suggested by the wave-like stone bed and the angles at which the logs are placed. The stones, placed within the grooves of the logs, appear to be like passengers.
"I was inspired by going to the beach. I saw some wood lying around. And then I thought of sculptures I had seen by carving masters in New Guinea and Africa," says Bui. "As I cut the piece, I thought of ocean creatures. I wanted to integrate the wood with the pebbles, to include them in a dialogue. The stones on the wood are like barnacles on a boat. This is how I empty my mind when I pick up a rock on a peaceful beach. This is what Meditation is about."
Bui, who graduated from the San Francisco Art Institute with a Bachelor of Fine Arts degree in 1988, and received his Master of Fine Arts degree from Stanford University in 1992, also honed his sculptural skills at the prestigious Skowhegan School of Painting and Sculpture in Skowhegan, Maine. While his innovative sculptures tend to utilize found natural materials, he also makes work from found man-made objects.
Don't Pressure Me, which features deflated inner tire tubes fashioned into potato-like clumps of rubber with the fuselike protrusions of a mine, and the Flat Inner Tube series, of fragmented pieces of black rubber cut and fashioned into geometric patterns tacked to the Gallery walls, have a more urban edge than his wood and stone pieces.
"Since my work is about intuition, I sometimes do the unexpected. I work from my subconscious," says Bui. "I hear something or read something interesting or see something interesting, then I incorporate it into my art. I like to do a wide variety of things. My medium allows me to be flexible."
In Steps, Bui incorporates a sculpture directly into the Gallery's architecture. This work consists of a miniature, hand carved staircase that leads nowhere, but instead is built into one of the wood beams that supports one of the Gallery's walls. On each step, Bui has carved a Confucian proverb translated into Vietnamese: "First, be polite and kind; second, practice a profession."
Bui feels that the boundlessness of this thought, of being a nice person above achieving career success reflects the universality he strives to achieve-like Hoang and Ly - in his work.
"I want my work to be able to reflect different cultures," says Bui, who only arrived in the United States in 1981. "1 like the art of Charlie Chaplin. He never spoke, but anyone can understand his films. I want my work to be that universal."
---
Reena Jana is the San Francisco-basedcontributing editor for Asian Art News and World Sculpture News.
All photographs: Courtesy of Pacific Bridge Contemporary Southeast Asian Art, Oakland, CA., USA.
Nguyen Van Cuong, New Frontiers, 1998, acrylic on gallery wall, 9 x 5.5 feet.
Nguyen Thanh Binh, Morning Tea, 1998, oil on canvas, 19 1/2 x 35 1/2 inches.
Tran Van Thao, Old Space 3, 1997, oil on canvas, 35 1/2 x 55 1/2 inches.
---
CLICK HERE FOR
"Made in USA"
---
Pacific Bridge Contemporary Southeast Asian Art, 95 Linden Street #6, Oakland CA 94607
Tel. (510) 45I - 8840 Fax. (510) 45I - 8806 email. pacificbridge@asianartnow.com
Gallery hours: Tuesday through Saturday 11 am - 6 pm.