Fragments of Vietnam
BY MARIKO THOMPSON
---
'Book of Perceptions' meditates on boundaries of space, self
If a Japanese rock garden celebrates the art of the void, then Truong Tran's latest book embraces the language of the void. In The Book of Perceptions, Tran and photographer Chung Hoang Chuong use words and images as their rocks, white space as their sand. To sit in their garden is to contemplate the boundaries of perception and identity, of language and silence.
This is Tran's second book of poetry. (His Placing the Accents will be published later this year.) In both, he straddles the divide between his country of origin, Vietnam, and his adopted country, the United States. The thread running through The Book of Perceptions is his first trip to Vietnam since his family fled Saigon in 1974.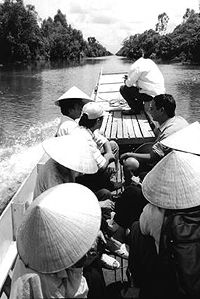 Tran is at turns abstract, lyrical and playful as he explores the fragmented sense of self Free of titles and punctuation, the poems move fluidly from one to the next. At one moment, he tackles issues of language and identity ("translated I am considered not whole of fragments and shards translated I am a shadow of"). The next he's conversing with a sand crab or dropping into a lush herb garden ("this for her is a manageable life a bucket of water a hole punched ladle the scent of mint leaves").
The emotional core of the book develops as Tran falls in love with K who becomes intertwined with Tran's outer and inner journey. Tran is at his minimalist peak when he strips his lover down to a letter. "let's say that you am K and I am T removed from our context T met K in country V T fell in love with both K and V the sum of which is a language unrequited."
Tran's poetic flaws are minor. A few poems either slip by unnoticed or give the reader exactly what's expected: "the world is nothing as I know it and yet I feel as if I were home."
The book's design with its fearless use of white space, invokes a meditative mood. Chuong's photos-portraits, urban scenes, panoramic vistas--question visual perception as they are simultaneously static and dynamic, fragmented and cohesive.
The Book of Perceptions is a beautifully crafted effort that strikes deep chords with Asian Americans. Tran has created a lingering landscape that urges the reader to reflect again and again.
The Book of Perceptions, $20, is published by Kearny Street Workshop Press with the assistance of a Creative Work Fund grant. An exhibition of photos and text are on display through March 31 at the Pacific Bridge Contemporary Southeast Asian Art Gallery, 95 Linden Street, Suite 6, Oakland. Call (510) 451-8840 or visit www.asianartnow.com on the Web for more information.
---
CLICK HERE FOR "Book of Perceptions"
---
Pacific Bridge Contemporary Southeast Asian Art, 95 Linden Street #6, Oakland CA 94607
Tel. (510) 45I - 8840 Fax. (510) 45I - 8806 email. pacificbridge@asianartnow.com
Gallery hours: Tuesday through Saturday 11 am - 6 pm.